Rocky Zora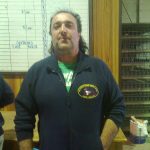 Rocky Zora storms the VRPU winning the short distance and combined aggregates in 2010.
Rocky Zora started flying pigeons with the Victorian Racing Pigeon Union in 1990, he flew with the Glenroy club which is situated in the middle of the federation until 2000.
In 2007 Rocky recommenced flying his pigeons from his new location in Greenvale which is situated in the northwest of the federation. Being a short flyer he needed to obtain quality birds along with good management. The strain of birds Rocky has, are Gaby Vandenbeele, Janssens, Vanloons, Vanbreeman crosses with a mixture of Aussie bloodlines.
The VRPU started racing in June, which meant that the daylight hours were limited.
Rocky being a truck driver would leave for work at 5.30am and return at 4.00pm. He had his wife Aklas release the birds at app 3.00pm daily and he would call them in at 5.00pm. Rocky feeds a high carb diet to his birds all season.
Rocky started tossing at the 300mile stage of the race program and he insists that the birds had no prior tossing.
He believes tossing is not important if the birds are flying well around the loft, good race mixture and a dry loft are two main factors to success.
Advice to flyers that are just starting out, is to obtain the best birds possible from the best flyers and keep them healthy.
Rocky wishes to thank his wife Aklas for her support and good mate Mike Doria for his assistance with the loft modifications prior to racing.
Rocky placed in 16 fed positions from 19 races.
Race Wins
14th Fed Stanhope
16th Fed Stanhope
14th Fed Jerilderie
6th Fed Griffith
1st Fed Griffith
5th Fed Griffith
3rd Fed Rankin Springs
7th Fed Rankin Springs
19th Fed Rankin Springs
8th Fed Condoblin
6th Fed Condoblin
18th Fed Narromine
7th Fed Narromine
3rd Fed Yolla
7th Fed Coonamble
16th Fed Collarenebri
Well done Rocky.